'The greatest flower show on earth' takes place next month from 22-26 May, and now's the time to book your tickets. And there are plenty more flower shows of all sizes to enjoy this year too – here's an overview of some of my favourite events, both large and small.
Garden shows are fantastic places for garden inspiration and Chelsea is the greatest of them all, with Show gardens of all sizes packed with ideas to 'take home'. A host of clever space-saving features and designs for today's ever-smaller plots can be found in the Artisan category, which demonstrates a contemporary approach to using traditional materials and crafts. However, as always at Chelsea it is the large show gardens that have the real 'wow' factor with the latest innovative designs.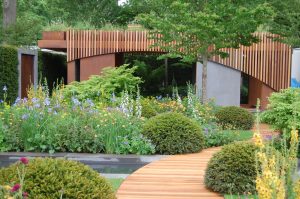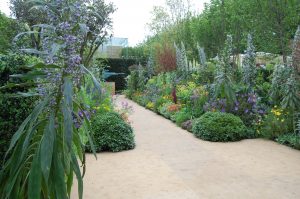 The Great Pavilion is horticultural heaven with more than 90 of the world's best growers, nurseries and florists inside the super-sized structure which covers nearly three acres. Here the seasons concertina together with daffodils and tulips rubbing shoulders with roses, vegetables, tropical blooms and fantastic flower arrangements. Plants can be admired and ordered although not bought – apart from the sell-off on the final day which I've never witnessed, but is said to be a wonderful spectacle of visitors heading home via bus and train, laden with plants and blooms. Being in central London, Chelsea isn't exactly on the doorstep from here in Devon, but I love letting the train take the strain and, best of all, going up on the overnight sleeper so as to be there when the doors open on the dot of eight.
Click here for tickets and information on the Royal Horticultural Society (RHS) Chelsea Flower Show.  Other RHS shows around the country are Cardiff (13-15 April); Malvern (10-13 May); Chatsworth (6-10 June); Harlow Carr (22-24 June) and Hampton Court (2-8 July). Click here for more information. https://www.rhs.org.uk/shows-events/
However, there are plenty of events that take place all around the south-west of England. Last weekend I spent a wonderful day at the Cornwall Garden Society's spring flower show at Boconnoc, which had a wealth of floral displays and a magnificent range of specialist nurseries. Toby Buckland's garden festival at Powderham near Exeter takes place on 27-28 April; and Tavistock Garden Festival on 27-28 May, all offering a fantastic selection of tempting plants and inspirational ideas.